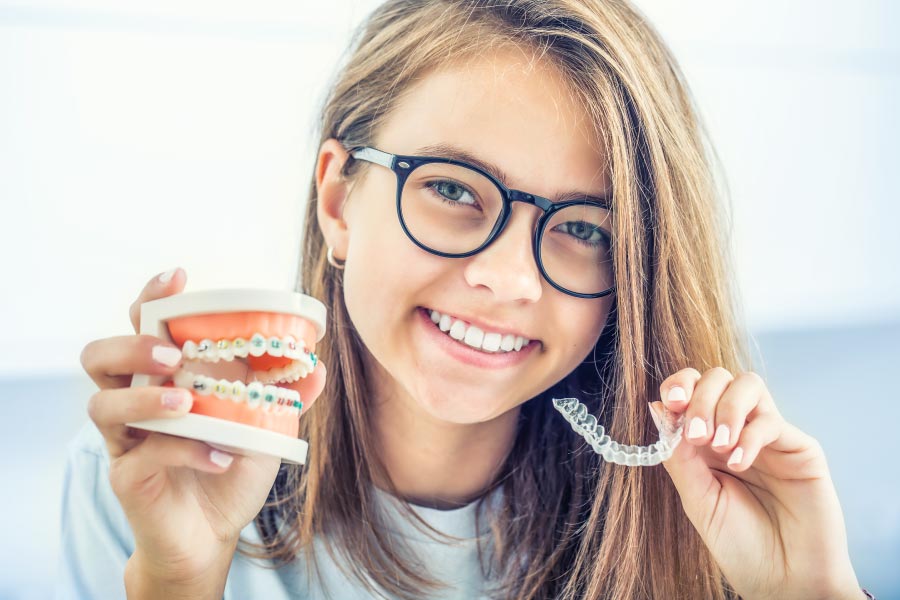 We all know that misaligned or crooked teeth affect how you look. But did you know that misalignment can affect how you clean your teeth, chew, and speak? There are multiple reasons to straighten crooked teeth. Fortunately, there are also multiple methods for achieving that goal. Riverstone Dental Care offers Invisalign®, Sure Smile and traditional braces. So no matter what type of misalignment you or your family member is dealing with, we have a solution.
When You Choose Clear Aligners
Whether it be a minor or major case of misalignment, some people don't want to draw any more attention to their teeth than necessary. If you can relate to that, Invisalign clear aligners would be the perfect teeth-straightening solution because they are virtually undetectable during treatment. What's even better is that Invisalign treatment is usually quicker than traditional orthodontic options. Pre-made custom sets are provided during visits and can correct many types if malocclusion. Patients with busy schedules can benefit from shorter appointments, longer intervals, and visible progress as their teeth move into position. Cleaning your teeth is easy since Invisalign is removable.
When You Choose Braces
Patients who need major orthodontic corrections will need traditional braces. Some misalignments need extreme bite adjustments which clear aligners can't handle. Individuals who are not able to be consistent in wearing and keeping track of removable aligners may also have a better experience with regular braces. Braces are the traditional orthodontic appliance but they also have been improved over the years for a more comfortable treatment and lower profile. While braces require a bit more care, a beautiful straight smile is worth it.
Invisalign Clear Aligners vs. Braces
Embarking on the journey to a straighter smile is exciting. While the ultimate decision for orthodontic appliances may come down to the current condition of your bite or teeth alignment, sometimes treatment choice comes down to preference. Invisalign may be better than braces for some individuals and vice versa. However, for patients who have the freedom to choose which treatment, there are a few things to consider.
Commitment to Adjustments

Preference of Appearance

Personal Accountability

Commitment to Cleaning
Orthodontic Treatment in Coeur d'Alene & Post Falls, ID
If you're uncertain which orthodontic treatment is right for you, our team at Riverstone Dental Care would be happy to see you for a consultation. We offer both clear aligners and traditional braces to help you achieve a straight, beautiful smile. Contact our team to schedule your visit today!