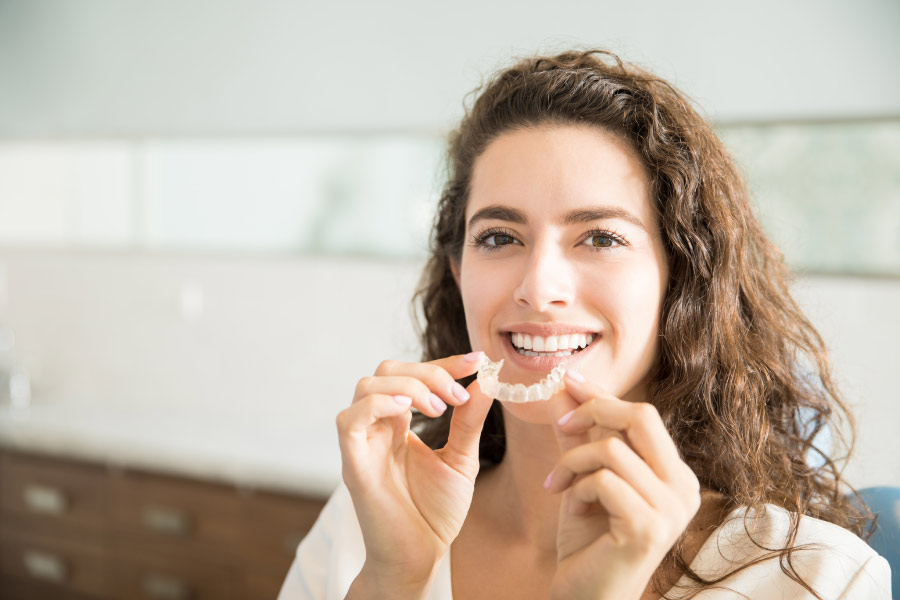 There are many orthodontic treatments available today. Riverstone Dental Care in Post Falls and Coeur d'Alene offers our patients several choices for straightening teeth. One of the most popular options is Invisalign® clear aligner therapy! It provides both adults and teens a discreet way to straighten their teeth. Keep reading to learn more about Invisalign!
What Is Invisalign?
Invisalign uses clear, plastic aligner trays to straighten teeth in one to two week increments. After a few weeks, patients will put on a new set of aligner trays in the series until they have completed all of their trays. Invisalign uses gentle force and slowly pushes teeth into their desired positions through each new aligner tray. One of the many reasons Invisalign is so popular is that most people won't even notice patients are wearing the aligners. They are transparent and are specifically designed to contour around the gums, so they blend in seamlessly over teeth.
Invisalign Timeline
Just like any orthodontic treatment, every case and person is different, so treatment times vary. On average, patients spend anywhere from six months to two years straightening their teeth with Invisalign depending on the severity of their case and how often they wear their aligner trays. The more strict you are about wearing your aligners, the better your chances are of completing treatment faster.
Benefits of Invisalign
In addition to providing a nearly invisible teeth straightening solution, Invisalign has many other benefits.
Fewer dental appointments

Lower risk of developing cavities compared to traditional braces

Removable aligner trays for eating and brushing teeth

Soft plastic aligners that won't agitate or injure the cheeks and gums
Invisalign in Post Falls & Coeur d'Alene
Have you been putting off straightening your teeth because you don't want to spend years in metal braces? We totally get it! You can achieve your dream smile the easy way! Now, you can straighten your teeth without anyone even noticing you're going through orthodontic treatment. At Riverstone Dental Care, we offer Invisalign clear aligner therapy and would love to help you gain a beautiful, healthy smile. Please visit us in Post Falls or Coeur d'Alene. Click the link below to schedule your Invisalign consultation!