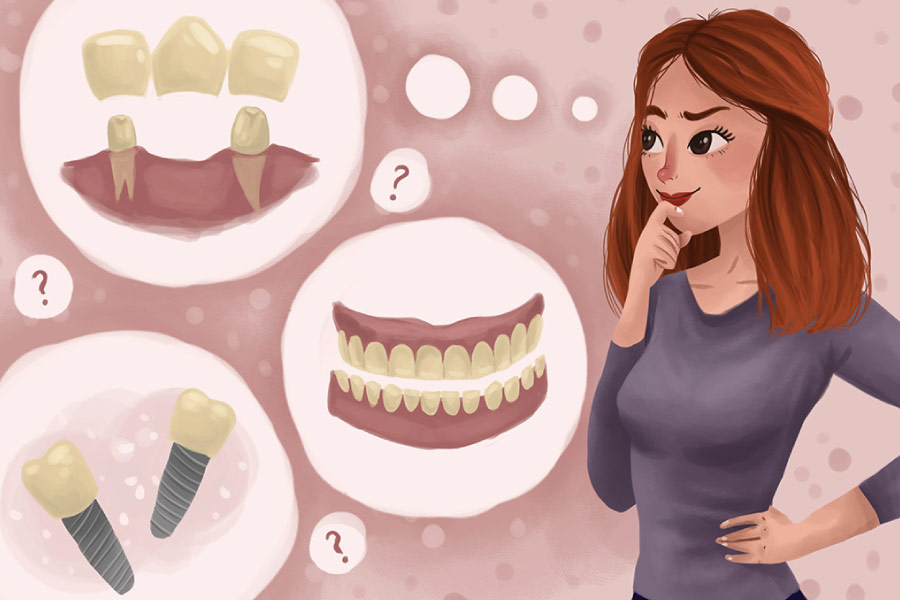 What Is My Best Tooth Replacement Option?
If you've spent time struggling with the impact of missing teeth, it's only natural to want to replace them. Missing teeth affect self-confidence and social interactions just as much as everyday tasks like eating and speaking. Thanks to modern dentistry, there are a variety of solutions to restore damaged or missing teeth. Restorative procedures such as dental crowns, bridges, implants, and dentures have given millions of smiles a second chance. If you've begun to explore these options but aren't sure which is best for you, Riverstone Dental Care wants to help! In this blog, we'll break down the pros and cons of dental implants vs dentures.
What Are The Benefits of Dentures?
Dentures are one of the longest-standing restorative procedures in dentistry. Porcelain dentures in particular began to be produced around the 1700s. Over time, they've been refined to feel more comfortable and look more natural. They're still a common choice for patients who've lost a majority of their teeth. They offer are number of benefits.
Flexible: You can receive partial dentures to replace just the top or bottom row of teeth or full mouth dentures to replace all of them.

Affordable: A set of dentures tends to be less expensive than individual implants

Less Invasive: Dentures don't require multiple surgeries like implants do.
Pros & Cons of Dental Implants
Dental Implants have become one of the most popular restorative treatments in recent years. Rather than being removable, they're intended to be permanent solutions. During the procedure, titanium posts are implanted into the gums that gradually bond with your jawbone. The posts serve as a foundation for artificial teeth. Here's a look at some of the benefits of dental implants.
Natural: Dental implants can do anything your natural teeth can do. You don't have to worry about food restrictions.

Stable: Unlike with dentures, there's no chance of dental implants accidentally falling out.

Long-Lasting: Although the restoration itself will eventually need to be replaced, with proper care the actual dental implants can last a lifetime.
Which is Right For Me?
Both solutions offer unique advantages, but every patient's situation is unique. If you have a large number of teeth that need to be replaced, or you have budgetary concerns, dentures can be a great solution. Dental implants have a higher cost, but the end result will be both highly functional and aesthetically pleasing. Your dentist can help decide which is the best option based on your dental and financial needs.
Dental Implants & Dentures at Riverstone Dental Care
Fortunately no matter which option you choose, Riverstone Dental Care is here to help. We offer dental implants and dentures at our offices in Coeur d'Alene and Post Falls. Contact us to set up a consultation. We'll help you choose the option that best suits your needs and budget.