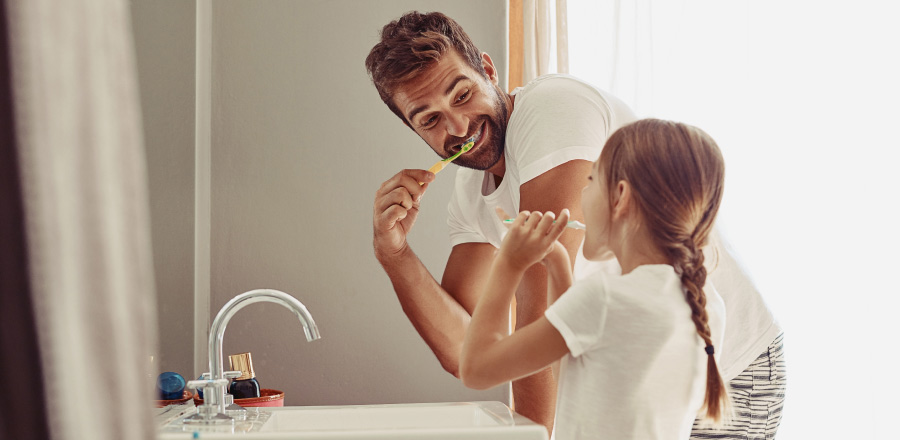 At Riverstone Dental Care, many of us are parents. So, we understand that getting your kids to do certain things can sometimes feel like, excuse the pun, pulling teeth! February is the national Children's Dental Health month, so with that in mind we want to share 3 tips to get kids excited about brushing teeth.
1. Make it a Routine
Like any habit, brushing teeth is easier to keep up with if you do it at roughly the same time each day. Try to establish a routine where your child brushes their teeth at around the same each morning and each night. If you can get more family members involved, even better! Kids respond well to role models, so brushing teeth along with an older sibling or a parent is a great way to get younger children on board.
2. Make it Fun
Brushing teeth doesn't have to be boring! One way to get kids excited about brushing teeth is to incorporate music into the experience. You can pick the same song to listen to each time, or let your child play DJ. Either way, use the song as a "timer" to help teach them to brush a full two minutes. There are also some clever kids' songs designed specifically for tooth brushing available on YouTube.
3. Make it Personal
Kids love to express themselves — so make that a part of tooth-brushing! You can let your child pick out the color of their toothbrush, for example. Consider letting your child select their preferred flavor of toothpaste. There are lots of flavors as varied as bubblegum and bacon, so your child is sure to find something that excites them more than mint.
Healthy Smiles at Riverstone Dental Care
No matter how you get your kids excited about brushing teeth, know that you're teaching them healthy habits that will last a lifetime. Our friendly teams in Coeur d'Alene and Post Falls love to help patients of all ages. As part of our wide range of services, we offer dentistry designed specifically for kids! To ask us any questions about caring for your kids' teeth or to schedule an appointment, call our office today!